Debarshi Kumar Brahma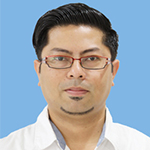 Debarshi Kumar Brahma
Assistant Professor
Debarshi Kumar Brahma is an Assistant Professor in the Department of Multimedia Communication and Design, CIT Kokrajhar. He is the founding faculty member of the Department which was then known as the Department of Animation and Multimedia Technology. He has been working in CIT, Kokrajhar for the past 7 years with the sole intention of spreading knowledge to the students about Animation and Multimedia. An adept visionary, he believes that every individual is creative in their own way and is capable of being part of innovation if guided in the right direction. He comes from a multidisciplinary educational background and has knowledge about areas such as Earth Science, Troubleshooting Computers and Tackling Viruses.
Prior to joining the Animation Industry, he had worked as a Technical Associate for Microsoft Customers in Transworks Pvt. Ltd, Bangalore and worked part-time as a System Administrator in Frameboxx, Cambridge Layout, Bangalore. After completing his professional diploma in 3D Animation and VFX, he joined Paprikaas Interactive Services Pvt. Ltd, Bangalore, now known as Technicolor, India as a Junior Lighting Artist and worked in international projects such as "Back at the Barnyard" animated series by Nickelodeon and LEGO's home entertainment movie, "The Adventures of Clutch Powers."
His interest lies in Multimedia Communications, 3D Animation, Inorganic Modeling, Visual Effects, CG Lighting, Virtual Reality, Augmented Reality, Game design and Gaming, Drawing and Sketching.