Abhijit Padun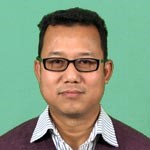 Abhijit Padun
Assistant Professor
Abhijit Padun is a graphic and communication designer with experience and expertise on various design domains. With over 12 years of core professional experience in various design domains and over 2 years of academic experience at CIT Kokrajhar he loves to explore new dimensions in the field of design education and design research. Apart from this, his interest area also covers Visual Communication, Typography, 2D/3D Animation, Web Design, Interface Design, Interaction Design, Product Design, Branding, Design Research, Infographics and Virtual Reality.
As a professional he was associated initially with Nexus Design Projects Pvt. Ltd., a renowned New Delhi based design firm and later on moved to Desmania Design Pvt. Ltd., which is considered one of India's top design agency in product design domain. During his professional tenure he worked for clients such as Whirlpool, Timex, HCL, Rayban, Sony, Perot systems, Technopak Advisors, GSK, P&G and many more MNC's as well as Indian companies. His expertise covers a wide domain ranging from visual communication, branding, interface design, print and digital media design, product design, packaging design, exhibition design, retail design, web design and many more.
Academic background: He did his B. Tech. in Civil Engg. from NIT Hamirpur, Himachal Pradesh and then Masters in Design from IIT Guwahati, Assam. Currently he is pursuing his Ph.D. from IIT Guwahati.
Workshop/conferences:
Resource speaker and workshop conductor at IEEE National workshop on Graphics and Presentation Technique for Engineers, held at IIT Guwahati by IEEE Student branch in 2013.
Speaker and workshop conductor at Workshop on Graphic Design Tools and Technique organized by M.Des. Programme at IIT Delhi in 2011.